FT8 always works 😎️ here with RTL-SDR and that for sure simplest UP converter ever.
On these pages there is information about my station, as well interesting from time to time,
or less interesting DIY projects.
Always in the eye of the beholder, one likes this, the other that
Such as an ATtiny25 (as well as 45 and 85) fusebit resetter
[HV Programmer] a >
to
Extra page
this project including download of all required files.
Or a universal
PWM control
which I exceptionally still offer for download. Everything else on request or after login.
---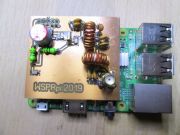 Raspberry as WSPR Beacon, but please not on Stripboard or Veroboards
More here
, or click on the image to the right.
---

DIY Bazooka, looks like expensive bought :-)
Details here
, or click on the image to the right.
---
WebSDR
If you want to listen in on the 70cm band (437,5 - 439,75 MHz) from my location, you're welcome to try it out thanks to OpenWebRX.
Just "right" in the menu on the button
"OpenWebRX"
for more information about the technique I use,
or
going directly to the WEB-SDR / OpenWebRx
Further information and recipients are available at
sdr.hu
Tip: right is where the thumb is on the left.




---
DG6JS ITU: 28 - CQ: 14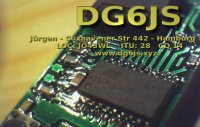 ---
Here are some pictures (from the year 2012) around my QTH. Radius max. 1,2km